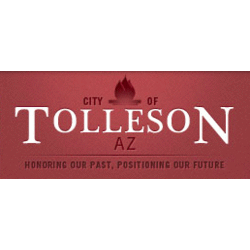 Firefighter Paramedic (Lateral)
Tolleson, AZ
IMPORTANT RECRUITMENT INFORMATION READ THIS POSTING IN ITS ENTIRETY.
The City is actively recruiting to fill a vacancy and establish an eligibility list for future vacancies. The eligibility list will remain active for 2 years upon its creation.
Position Description
The purpose of this position is to provide fire suppression and emergency medical service along with fire prevention, hazardous materials response/mitigation, public education, and problem solving. This is accomplished by providing maintenance of the Fire Department equipment; performing emergency medical services; conducing fire suppression and related services; participating in training; providing community and customer service; and performing various administrative functions. Other duties include maintaining strength and cardiovascular health via physical conditioning and exercise; attending staff meetings; interacting with citizens and other departments and agencies; conducting hydrant test flow and inspection and service records; performing life safety inspections; and maintaining proper records.
Job Information
Closing Date: Open until filled First Review Date: July 18, 2019 Salary: $48,598.15
Qualifications
High school diploma or GED. Current CPAT (must pass prior to offer of position); Must provide a three (3) year driving history report from MVD and Current Arizona Paramedic Certification and Valid Arizona driving license upon hire.
Important Information (Read Carefully)
Your application submittal must include the following documents:
Three (3) year driving history report
Current Arizona EMT or Paramedic Certification*
Current CPAT (must pass prior to offer of position)
These documents should be attached to your complete on line application. If you are unsuccessful attaching these documents to your application, scan and send via email as a PDF file to hr@tollesonaz.org prior to the deadline date. Emailed photos of the documents will not be accepted. Do not send any additional documents other than those requested. Please include your FIRST and LAST NAME in email subject line. Do not mail or deliver these documents.
*Applicants with out of state Paramedic certifications must have Arizona reciprocity prior to accepting an offer. Your current certifications must still accompany your application submittal.
Other Requirements
Must be willing to work various shifts (48 hours), including weekends and holidays; Must be capable of functioning in high stress situations to include temperature extremes, above and below grade rescue situations, medical emergencies, hazardous materials incidents, residential, commercial, and other fires as appropriate.
Skill and Knowledge
Basic mathematical and science skills;
Principles and practices of safe motor vehicle operation and maintenance;
City geography and road system;
Microsoft Office products and other relevant technologies;
Thinking and acting quickly and effectively in emergencies;
Dealing effectively with people under stressful situations;
Reading maps and providing travel directions;
Understanding and following oral and written directions promptly and accurately;
Providing customer service;
Performing mathematical calculations;
Communication, interpersonal skills as applied to interaction with coworkers, supervisor, the general public, etc. sufficient to exchange or convey information and to receive work direction.
Physical Demands
Positions in this class typically require: climbing, balancing, stooping, kneeling, crouching, crawling, reaching, standing, and repetitive motions.
Very Heavy Work: Exerting in excess of 100 pounds of force occasionally, and/or in excess of 50 pounds of force frequently, and/or in excess of 20 pounds of force constantly to move objects.
Incumbents may be subjected to moving mechanical parts, electrical currents, vibrations, fumes, odors, dusts, gases, poor ventilation, chemicals, oils, blood and other bodily fluids, extreme temperatures, inadequate lighting, work space restrictions, intense noises, travel and environmental conditions such as disruptive people, imminent danger, and a threatening environment.
Testing Information
The recruitment process will entail an application review and oral boards.
Successful applicant may enter a fire academy as starting August 19, 2019.
Additional Application Information
Successful candidates must complete background check, psychological and fitness examination. Fingerprint clearance required.
It is important that your application shows all relevant work experience and education. Work experience must be noted on the application. Applications may be rejected if not fully complete. Your resume may not be substituted as an application.
Eligibility list is active for two years upon creation, however term may be shortened or lengthened with the approval of the Human Resources Director.
Applicants may request a reasonable accommodation, if needed, by contacting Human Resources at 623-936-7111.


For more information, or to apply now, you must go to the website below. Please DO NOT email your resume to us as we only accept applications through our website.

https://www.applicantpro.com/j/1134842
7435892