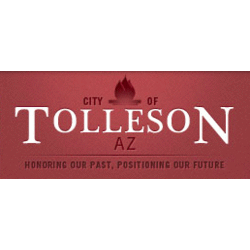 Police Officer-Lateral
Tolleson, AZ
We are small, but in the middle of it all. The City of Tolleson is one of the best places to start or advance your career. Incorporated in 1929, we are committed to providing employees with opportunities for learning and growth. Are you interested in joining our team? If you are passionate about making a difference in the community, the City of Tolleson is looking for people like you.
The City of Tolleson is seeking career-oriented LATERAL applicants who desire to join the Tolleson Police Department. The successful candidates will be individuals that share strong standards with the officers of Tolleson, are team oriented with a high level of maturity and personal responsibility, and display cultural awareness and sensitivity. This position requires personal dedication to Customer Service and Community Policing Concepts and how they apply to the community.
Position Description
Patrols designated areas and responds to calls for service by the public. Contacts complainants, witnesses, and suspects; gathers information; investigates crimes; conducts interviews; makes arrests when necessary; writes reports; testifies in court.
Conducts crime scene investigations by locating, documenting, and gathering evidence; conducts interviews of victims, witnesses, and suspects.
Conducts traffic enforcement by educating or citing, when necessary, motorists who pose a risk to the motoring public; investigates and completes motor vehicle crash reports.
Performs other customer service related tasks and/or duties as assigned by Department supervisors.
Qualifications
High School Diploma or equivalent (GED). Minimum age requirement 21 years. Valid Arizona Class D Driver's License, with no felony convictions. Candidates must possess Arizona POST certification and be in good standing at the time of submitting application.
Above average physical conditioning; includes running, climbing, crawling, and possess the ability to pass and maintain an entry level officer's physical fitness requirements.
Physical Demands
Positions in this class typically require: climbing, balancing, stooping, kneeling, crouching, crawling, reaching, standing, walking, pushing, pulling, lifting, fingering, grasping, feeling, talking, hearing, seeing and repetitive motions.
Heavy Work: Exerting up to 100 pounds of force occasionally, and/or up to 50 pounds of force frequently, and/or up to 20 pounds of forces constantly to move objects.
Incumbents may be subjected to atmospheric conditions such as fumes, odors, dusts, gases, hazardous materials such as chemicals, oils, and blood and other bodily fluids, extreme temperatures, exposure to the elements, travel across rough, uneven and rocky surfaces and environmental conditions such as disruptive people, imminent danger, and a threatening environment.
Job Information
Closing Date: Open until filled Salary: $25.51-$32.13 hourly, $53,066.89 - $66,834.04 yearly
Additional Application Information
A thorough background investigation will include a polygraph, psychological examination, AZPOST medical examination and drug screening. Applicants are expected to possess strong communication skills (both verbal and written) as well as acceptable computer skills.
Candidates must have the ability to work nights, weekends, and holidays.
It is important that your application shows all relevant work experience and education. Work experience must be noted on the application. Applicants may be rejected if not fully complete. Your resume may not be substituted as an application.
Applicants may request a reasonable accommodation, if needed, by contacting Human Resources at 623-936-7111.
7419303