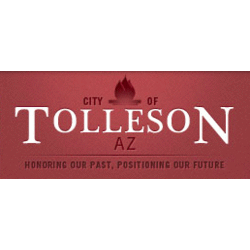 Streets Maintenance
Tolleson, AZ
We are small, but in the middle of it all. The City of Tolleson is one of the best places to start or advance your career. Incorporated in 1929, we are committed to providing employees with opportunities for learning and growth. Are you interested in joining our team? If you are passionate about making a difference in the community, the City of Tolleson is looking for people like you.
Position Description
The purpose of this position is to maintain all City streets, sidewalks, streets signage, catch basins, walls, fences, easements, and restricted alleys hindering visibility of City signs and vehicles. This is accomplished by providing maintenance and repairs of City walkways and streets; performing repairs and maintenance of street signs and barricades; maintaining and operating the street sweeper vehicle; and assisting other City departments as requested. Other duties include attending staff meetings and safety training; inspecting vehicles for safety standards; and interacting with other employees and citizens.
Qualifications
High School Diploma or GED and as assigned, six months of work experience; or, an equivalent combination of education and experience sufficient to successfully perform the essential duties of the job such as those listed above. Must possess a valid Arizona Commercial Driver's License (CDL) within 12 month of hire, highly desirable at time of hire. Asphalt and concrete experience preferred.
Physical Demands
Positions in this class typically require: climbing, balancing, stooping, kneeling, crouching, crawling, reaching, standing, walking, pushing, pulling, lifting, fingering, grasping, feeling, talking, hearing, seeing and repetitive motions.
Heavy Work: Exerting up to 100 pounds of force occasionally, and/or up to 50 pounds of force frequently, and/or up to 20 pounds of forces constantly to move objects.
Incumbents may be subjected to moving mechanical parts, electrical currents, vibrations, fumes, odors, dusts, gases, poor ventilation, chemicals, oils, extreme temperatures, and intense noises.
Job Information
Closing Date: Open Continuous, applications will be reviewed weekly to be considered for either a virtual or in-person interview
Hiring Salary: (A13) $16.65 $20.39 hourly D.O.E. $34,623.10 - $42,413.30
Additional Application Information
It is important that your application shows all relevant work experience and education. Work experience must be noted on the application. Applicants may be rejected if not fully complete. Your resume may not be substituted as an application.
Applicants may request a reasonable accommodation, if needed, by contacting Human Resources at 623-936-7111.
7420111