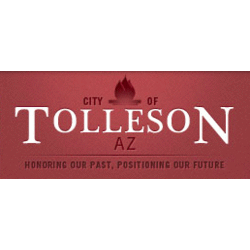 Water Distribution Operator
Tolleson, AZ
This position will remain open until filled.
Position Description
The purpose of this position is to monitor and maintain the water distribution system for the City of Tolleson. This is accomplished by repairing water lines; conducting marking and staking of water lines; completing work orders; conducting readings of water meters; responding to emergency waterline breaks; and completing repairs for fire hydrants. Other duties include operating the backhoe and dump truck; handling customer complaints; conducting observations of water flow; replacing cement and asphalt; and attending training and workshops.
Qualifications
High School Diploma or GED and 3 years experience related to area of assignment; or, an equivalent combination of education and experience sufficient to successfully perform the essential duties of the job such as those listed above. Grade 1 ADEQ Water Distribution Certificate required. Valid Arizona (CDL) Commercial Driver's License required. Arizona Tanker Endorsement preferred. Must be available for Alternate Emergency On-Call list.
Skill and Knowledge
Interpreting and applying applicable laws, codes, regulations and standards;
Maintaining and controlling inventory;
Solving problems;
Providing customer service;
Operating equipment applicable to assigned area;
Repairing and maintaining applicable equipment;
Reading and interpreting drawings, schematics, and/or maps;
Making sound decisions;
Utilizing a computer and relevant software applications;
Maintaining and repairing vehicles;
Operating heavy equipment such as Vactor Truck, forklift, backhoe, loader, skid loader, dump truck, boom truck, street sweeper, and crane truck;
Communication, interpersonal skills as applied to interaction with coworkers, supervisor, the general public, etc. sufficient to exchange or convey information and to receive work direction.
Physical Demands
Positions in this class typically require: climbing, balancing, stooping, kneeling, crouching, crawling, reaching, standing, walking, pushing, pulling, lifting, fingering, grasping, feeling, talking, hearing, seeing and repetitive motions.
Heavy Work: Exerting up to 100 pounds of force occasionally, and/or up to 50 pounds of force frequently, and/or up to 20 pounds of forces constantly to move objects.
Incumbents may be subjected to moving mechanical parts, electrical currents, vibrations, fumes, odors, dusts, gases, poor ventilation, chemicals, oils, blood and other bodily fluids, extreme temperatures, inadequate lighting, work space restrictions, intense noises, travel, disruptive people, imminent danger, threatening environment.
Job Information
Closing Date: Open until filled Salary: (B22) $20.33 - $29.48 hourly
Hiring Range: $42,286.25 to $51,800.67 D.O.E. FLSA Non-Exempt
Additional Application Information
A complete background and will be conducted on successful candidate.
It is important that your application shows all relevant work experience and education. Work experience must be noted on the application. Applicants may be rejected if not fully complete. Your resume may not be substituted as an application.
Applicants may request a reasonable accommodation, if needed, by contacting Human Resources at 623-936-7111.
7426107